One of my favorite clients to work for is the
McCall Pattern Company
, who also owns
Butterick
and
Vogue Patterns
. Everyone there is wonderful, and I have been working for them for a while, so they feel like family. I also always thought it was a perfect fit-- I love sewing, and buy their patterns frequently. Moreover, my great grandfather, who died in 1933, worked at McCall's as a printer. It feels like things have come full circle!
If you happen to be in a fabric store anytime soon, you can see me on the back cover of the Fall 2010 Butterick catalogue. I am on several of the patterns inside the book as well.
In sewing-related news, yesterday after dropping my parents off at the Philadelphia Airport (they're off to Italy for vacation!), I took advantage of my proximity to the city to go to one of
my favorite fabric stores
. After being relegated to the fabric-cum-craft stores in Delaware, it is indeed a divine experience to browse through the bolts of cloth in a real fabric store. It is a strange thing indeed, but I derive true joy from examining and petting all of the different textiles and trims that they had on offer.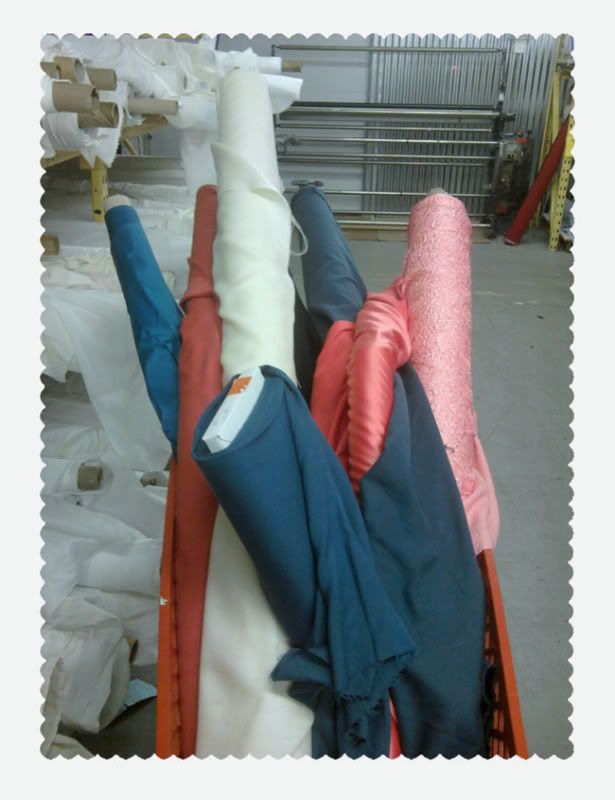 Just a peek in my buggy (that's the southern term for shopping cart, y'all) reveals some of the tempting delights that I treated myself to. My modus operandi was to walk around and put everything in my cart that caught my eye. Most of the fabrics I chose were wool, although I had a few satins as well. I didn't purposely choose colors in the same colorways (the blues and the salmons), so I guess that is just what I am being drawn to these days. I do have some projects in mind-- here's hoping that I'll be able to follow through.