I recently subscribed to the Colette Patterns blog-- I seem to be a sucker for anything sewing or fashion related.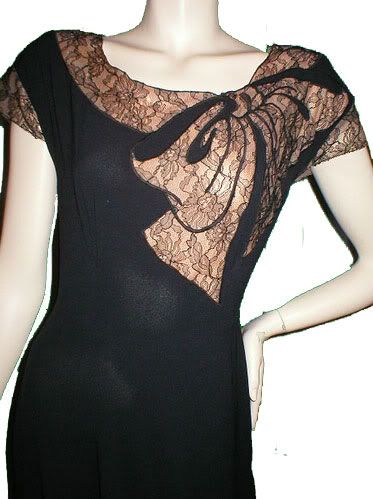 The dress that first caught my eye. Isn't the tromp l'oeil lace bow fabulous? I wish I knew the technique to make something like that!
On Wednesday, the blog featured pictures of dresses by Peggy Hunt which made me stop what I was doing and immediately go in search of more information about this dressmaker.
Peggy Hunt was born in 1892. She began as a home sewer who enjoyed making clothes for her baby daughter, but her dresses were soon noticed by the owner of the department store where she worked. Mr Haggerty, of Haggerty's Department Store, asked her to sell some of her designs in his store. The rest, as they say, was history. (Biography via here.)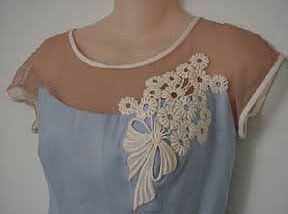 Peggy Hunt's trademarks were illusion necklines, appliques, and lots of lace.
Peggy's granddaughter Jacqui lovingly keeps her grandmother and mother's (also a designer) memory alive by buying their dresses wherever she can find them, and by sharing the pictures of her collection via her Flickr photostream.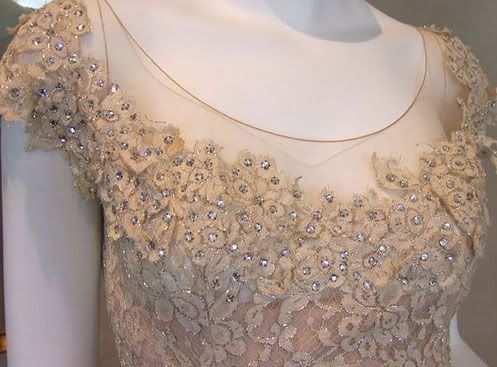 I love the pale pink of this dress along with the tulle skirt. I can see this one at a red carpet ceremony!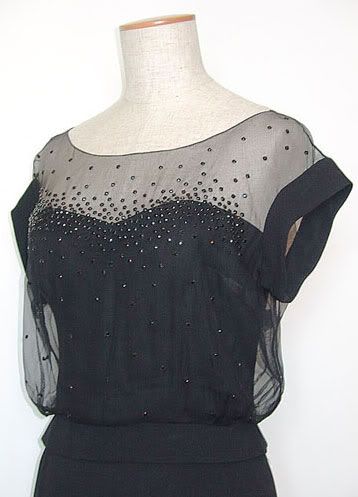 I really think Peggy Hunt's use of sheer overlays is genius. This top would also be beautiful as just a blouse.
This Peggy Hunt dress is one of my favorites. I love how modern it looks-- like something you'd buy from Anthropologie!