Gosh. Back in April, I decided I wanted to post unsent letters I had written. In typical fashion, I've failed miserably at that goal. In total, I've posted exactly one letter. At this rate, I'll be lucky if I get one up a year. This entry isn't unsent letters, but postcards that were sent, received, and through fate, are now back in my possession.
Today, I'm thinking of my grandma, or Golden Grams as I called her. She would have been 89 today, and losing her is one of the hardest things I've gone through.
When she died, we began the process of dismantling her life, of sorting through her things. Tucked in her beloved set of Encyclopedia Britannica were the following postcards, each one next to entry for the country I'd sent the postcard from. It touched me to see how she'd saved the postcards I'd sent her from my travels.
The first postcard is from my first trip abroad-- a trip I took with my friend, Mark, and his family. The following year I went back to Paris to study abroad for a semester, and I mailed her a postcard from the Loire valley, which my classmates and I had toured. The third postcard was mailed from Athens, Greece. I had traveled there alone to model, and it was my first time traveling on my own. I stayed there for two months, and worked with a local modeling agency there (garnering my first two national magazine covers during that trip). The last postcard was mailed from Cologne, Germany. It's special to me, because my grandma sat next me on the train while I wrote it. We'd traveled to Germany to visit my brother, who was studying there, and so that Grandma could see the homeland of her father. It was a very special trip, and I was thrilled to have the woman I loved so much with me.
Grandma, I miss you. I think of you all the time, and I'm thankful for whatever vestiges I carry of you. You were an amazing woman, and I'm glad that you're reunited with Grandaddy, sitting at the Lord's feet in Paradise.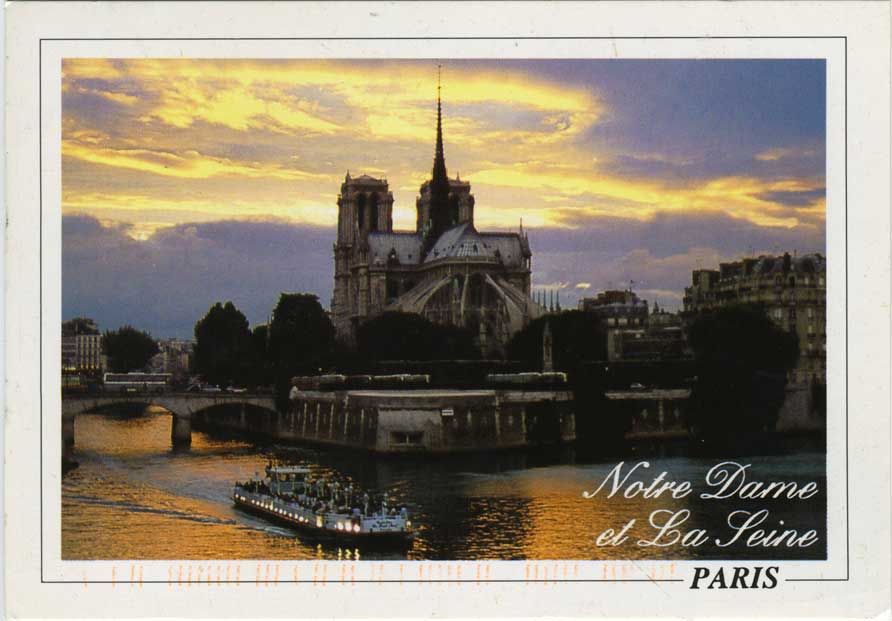 Here's your postcard-- as promised. I thought this one was kind of pretty. This shows the Notre Dame Cathedral which is situated on an island, surrounded by the Seine River. We climbed the bell tower-- it was very cool! The view was amazing and there were cool gargoyals. We also went to the Catacombs-- yards and yards of bones & skulls and things underground. There's bunches of other things we've done as well but I'll tell you about them later. Right now we're in Brugge, Belgium which is quite a captivating wonderful little town. There's a moat surrounding the city. Also canals-- this is known as the Venice of the North. I've been to what feels like zillions of churches on this trip-- all magnificent. The hotel we're in here is an old monastery. Very quaint. I love you and hope all is well!
January 2001
Hey Grandma.
How are you? We visited this chateau today-- what do you think? We spent the night in one- it was amazing. Toured 5 in all. It's cold here but we leave for Barcelona, Spain in two days-- should be warmer there. I'm having a great time-- meeting lots of friends-- the French are nice. We stay busy-- constantly doing things. Thanks for the $$ you sent me for X'mas-- I'm doing pretty good on spending but every bit helps.
♥ you! elise
Hello:) Greetings from Athens:) Thought I'd send you a pic of the Parthenon-- it looks much better in the pic as it is currently under construction.
My time here is almost up-- 10 days to go. I'm sad to leave as I've grown rather fond of this city. But I'm happy to be getting home to yummy home-cooked food and my sis's birthday and all. I'll be home for all of August so that should be very nice.
I've worked a little bit here so it was definitely worthwhile for me to come here.
Thank you so much for the money! I really appreciate it! I
♥
you and miss you.
Oct. 12, 06
Hi grandma!
We are riding back from the Grand Cathedral in Cologne. I thought this was a nice postcard to remind you of our trip! I wanted to thank you for being my roomie-- it was a grand trip!
I had a wonderful trip and am so thankful you came (believe me, when I thought you might decide not to come because of that passport, I seriously considered backing out myself.) I am so glad that you were able to see the motherland-- and that I could see it with you! I will treasure the memories of our time together here forever.
I love you!
xoxo-- elise