In 1938, Oscar-winning producer David O. Selznik wrote a letter to the director, editor, and production manager for the film,
Intermezzo
, starring Ingrid Bergman. The letter (
via
Letters of Note
) alluded to a movie called
Algiers
, starring the impossibly beautiful, Hedy Lamarr, who was once hailed as "the most beautiful woman in Europe."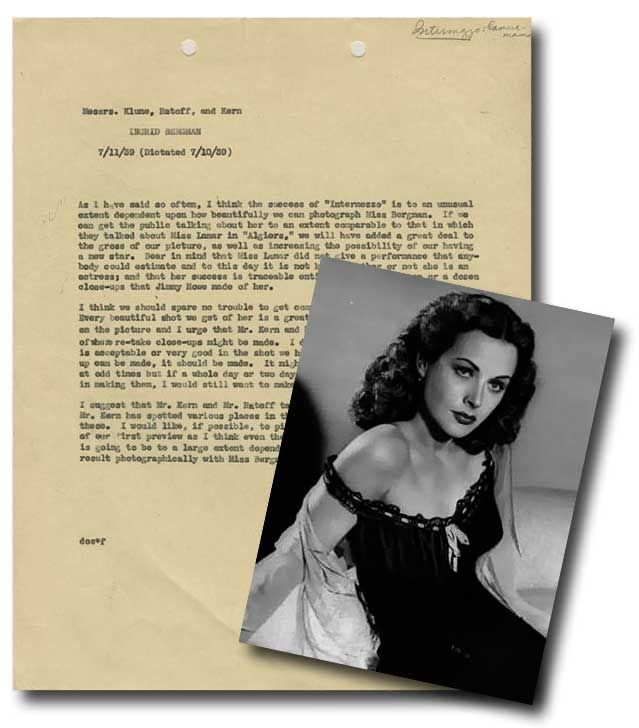 Selznik wrote:
I think the success of "Intermezzo" is to an unusual extent dependent upon how beautifully we can photograph Miss Bergman. If we can get the public talking about her to an extent comparable to that in which they talked about Miss Lamar in "Algiers", we will have added a great deal to the gross of our picture, as well as increasing the possibility of our having a new star. Bear in mind that Miss Lamar did not give a performance that anybody could estimate and to this day it is not known whether or not she is an actress; and that her success is traceable entirely to half a dozen or a dozen close-ups that Jimmy Howe made of her.
I
had not heard of
Algiers
, but after hearing tale of Ms. Lamarr's beauty, I knew I must check it out. The movie is set in the famed Casbah (also unfamiliar to me) of Algiers in Algeria. The Casbah (which in Arabic means citadel) is a walled area of the city that resembles a labyrinth, with twisting roads and dead-end alleys. It is the central location of the film and looks like an amazing place to visit.
While watching the film on archive.org, I was captivated by the costumes in addition to the story. I loved the Arabic flavor of the movie as it reminded me of my time spent in the Arabian Peninsula. Charles Boyer, as jewel thief Pepe le Moko, is quite mysterious and debonair and Lamarr, as Gaby, really does light up the screen. She contrasts beautifully as the sophisticated European next to the locals who also shine in their harem pants and fez caps. It is quite the juxtaposition and helps illustrate why Pepe is drawn to Gaby. Pepe's girlfriend, Ines, who has lived in the Casbah her whole life, is also an exotic beauty.
The movie is available through
Netflix
(which probably has better picture quality), but you can also stream it below. Enjoy! It is a lovely film, and does celebrates both the beauty of Algiers and Ms. Hedy Lamarr.
Related Trivia:
Hedy Lamarr was born in Austria-Hungary and worked exclusively in Europe before moving to Hollywood in 1938.

Algiers

was her first American movie.

Lamarr was more than just a pretty face: she is credited with co-inventing an early technique for spread spectrum communications, which is currently used in wireless communications (such as cell phones) today.

Actress Rachel Weisz is slated to play Lamarr in a biopic based on her life (with a focus on her scientific achievements).

The character of Pepe le Pew (a romantically-inclined skunk) in

Looney Tunes

is directly based on Charles Boyer's character in

Algiers

.

Tom the cat of

Tom and Jerry

also imitates Boyer's famous voice (especially when Tom is attempting to woo a female cat).
Below are some screenshots from the film,
Algiers
(1938).
XOXO,