My mom unwittingly set me off on an eBay buying spree last week when she clicked on a link that led her to some 1940s patterns on the site. In all of my madcap (as of late) buying of patterns, it somehow had not occurred to me check this rather obvious source of patterns.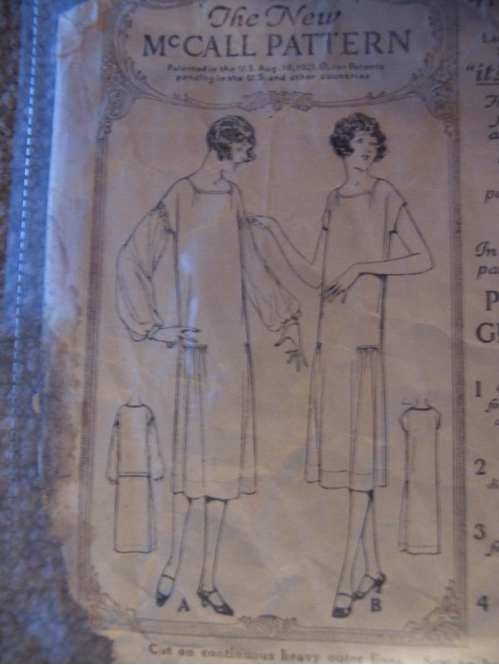 A 1920s pattern that I bid on but did not win.
I immediately created a wish list of sorts, and began bidding. I set my eye on some pretty fabulous patterns, losing a few auctions, and winning a few. I finally cut myself off and would not allow myself to visit eBay anymore.
Beautiful 1920s patterns that I would LOVE to own but decided not to bid on since my spending was getting out of hand. The patterns were in the same auction and only one dress was in my size.
I was surprised by the number of 1920s pattern I found. I love the silhouette created by the drop waist, and I think it would be cool to have a dress made from an authentic 1920s pattern. However, I am not sure that my body is suited to this particular style. The 1920s silhouette looks best on women with longer torsos and narrow hips.
Another pattern I did not win. I did not bid on this, but now wish I had as it was my size and sold for $4.00.
I learned the hard way that when the seller says that the pattern pieces are not counted that the buyer should take caution.
If you are buying used, vintage patterns, make sure the seller has counted all the pieces.
The one dress pattern I bought had literally five pattern pieces: cuff, collar, shorts back, shorts front, and facing. It is totally my fault since I bought the pattern knowing that the seller had not counted the pieces, but I feel swindled in a way as it is obvious without counting that this pattern does not have everything included. I really wish the seller had been more upfront about this, but, oh well, my lesson has been learned!
Here are the three dress patterns that I won:
Ironically, the one I wanted most (the last one with the playsuit) is the one that does not have all of the pattern pieces. I have been wanting a playsuit ever since I saw Teresa Cotton wearing one in the 1943 Hitchcock film,
Shadow of a Doubt
.
Alas, just when I thought I had given up my eBay obsession, it seems I have reason to go back again. I WILL find a playsuit pattern!
XOXO,